Hello All – there has been some delay in my blogging – still learning the tricks of iPad and traveling! However back on track now
NEWS
Host Milan was an enormous show, of 18 Halls, exhibitors and a lot to see. Unfortunately nothing stands out as a 'new' product to tell you about, but many developments in technology which we will be following up.
NEW RELY PRODUCT – POLYPROPYLENE BALLS for Sous Vide
Sous Vide is increasing in popularity and the diversity it provides the chef is huge, product consistency, quality and time saving probably the main features. However, you may be aware that evaporation could cause a problem with long term sous vide, and a new product RELY have is POLYPRPOYLENE BALLS which sit as a blanket on the water to assist with maintaining the water volume and prevent evaporation – some further information
Polypropylene is lightweight and an excellent electrical insulator. It has a hard, very smooth surface that prevents bacteria and resists chemical corrosion
o The spheres float on the surface of liquid in open tank and thereby greatly reduce the exposed liquid surface area – up to 90%.
o Dramatically diminish objectionable fumes and odours.
o A blanket of spheres also insulates heated liquid reducing evaporation and heat requirements.
o Spheres are hollow and will float on any liquid. Being smooth they ensure a much tighter surface cover.
o Polypropylene, non-toxic and able to withstand continuous working temperatures of 110° C (230°F).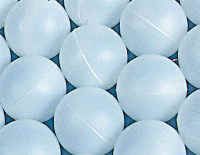 PRODUCT HIGHLIGHT & INFORMATION – PACOJET    FIRST TIME EVER WEB SPECIAL SEE BELOW
Pacojet  is the revolutionary fresh and frozen food processing machine for sweet and savoury products, with a small footprint,
RELY Services are the exclusive importer of Pacojet in Australia.  RELY provide back up and support Australia wide for Pacojet.     We have a service department managed by Frank Strangio .   Annual service of the Pacojet is strongly recommended to keep the unit in good working order for a long life (just as one would service a car!).
Customers are contacted when annual service is due and Frank travels most of Australia at least once a year to undertake servicing.
As a guide to Annual Service –   if you are processing
30 canisters / week   –  annual service is recommended
Over 50 canisters / week – biannual service is important.
When purchasing  the Pacojet System the Items below are included
°          1 Pacojet machine
°          1 Pacotising standard blade
°          6 canisters NEW
°          1 Spray guard
°          2 white plastic lids
°          1 Outer protective beaker
°          1 Chrome spatula
°          1 User instructions
°          1 Pacojet Recipe book
°          Instructional DVD NEW
°          Cleaning kit
°          1 Washing insert
°          1 Sealing ring
°          1 Rinsing ring
Optional Accessories  to be purchased
Coupe Set   comprises three blades
°          1 x 2-blade cutter  )
°          1 x 4-blade cuter   )
°          1 x whipping disc  )
fitting tongs           )
       Gold blade –
Titanium  if using very hard product this blade is recommended, and will have a longer life than the standard blade
First time offered as a Web Special      offer available 19.11.2011 to 19.12 2m011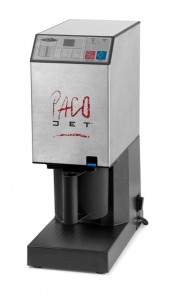 Included for  Total price $4950.00 (RRP $5950 incl)
standard blade, outer beaker, 6 canisters, cleaning kit, recipe book, instructional DVD
Melbourne delivery included – delivery to other States
ACT, NSW, SA, Tasmania   – $ 25.00      NT, QLD, WA,   –  $35.00
Note:  Payment by direct debit or credit card prior to dispatch
12/12 manufacturer part warranty, support and back up Australia wide by RELY
MENTION WEBPAC to receive this special
Special available until 19.12.2011 or while stocks last.
To take advantage of this special offer please contact
Lynda Erskine office@relyservices.com.au or 0419 360 961
DON'T FORGET – HIRE EQUIPMENT FOR POP UP EVENTS
POP UP EVENTS  are becoming a regular feature in many calendars and equipment for these is now available for HIRE from RELY.   We have Irinox 5 tray blast chillers, Pacojets, Sous Vide equipment – circulators and vacuum machines, and the smaller items, espuma guns, superbags and smoking guns.  Everything is  available for daily or weekly hire.
Contact RELY for further information – office@relyservices.com.au.