Time to catch up, work hard, and take time to share moments with friends, family, colleagues wherever you are in the world we send  –  Good wishes to all for a happy and safe Festive Season, and a prosperous and challenging 2012
NEW PRODUCT – GO VINO wine 'glasses'   ideal for summer entertaining, catering, boating, camping or the caravan –
GoVino the go anywhere revolutionary wine 'glass' designed for ultimate enjoyment of fine wine or any beverage.  The unique ergonomic thumb notch  allows for wine swirling.   GoVino is shatterproof,  reusable and recycleable.
GLASS Available in white, red  and champagne flute.
Features and Benefits…
Designed by a winemaker for the sole purpose of enjoying good quality  wine when traditional stemware is not available or practical.
Will not impart taste or smell into the wine.
Crystal clear design to reflect colour of wine.
Designed for swirling to release the  aromatics
100% Shatterproof – Guaranteed !
Logo printing available for corporate identity.
100% recycleable and made from a 100% renewable energy source.
100% Bisphenol-A ( BPA ) FREE ( most polycarbonates and acrylics contain BPA)
Commercial dishwasher safe
Available in easy to carry 4 pack tote or bulk pack box of loose glasses
FOR THE CHEF  –   The ANTIGRIDDLE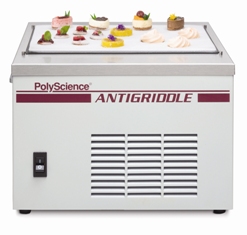 The  "Anti-Griddle" is a traditional cooktop with an amazing twist: the device quickly freezes sauces and purees instead of heating them!    This unique innovation allows you to effortlessly freeze sauces and purees solid or develop semi-frozen creations with stable, crunchy surfaces and cool, creamy centres.    The tantalizing dual-textures help satisfy increasing consumer demands for new dining experiences.       Let your culinary imagination run wild!
Quickly freezes sauces and purees into solid, unique forms — or freezes just the outer surfaces while maintaining a creamy centre
Minus 30°F 'griddle' temperature ensures almost instantaneous results
Approximately 1 square foot high-endurance cook top provides an ample, easy-to-clean work surface
Rely office will be closed from 23 December to 5 January,  deliveries will resume 10January.  For urgent calls during closure please ring Lynda 0419 360 961 or email office@relyservices.com.au
Be safe over the Christmas New Year period.